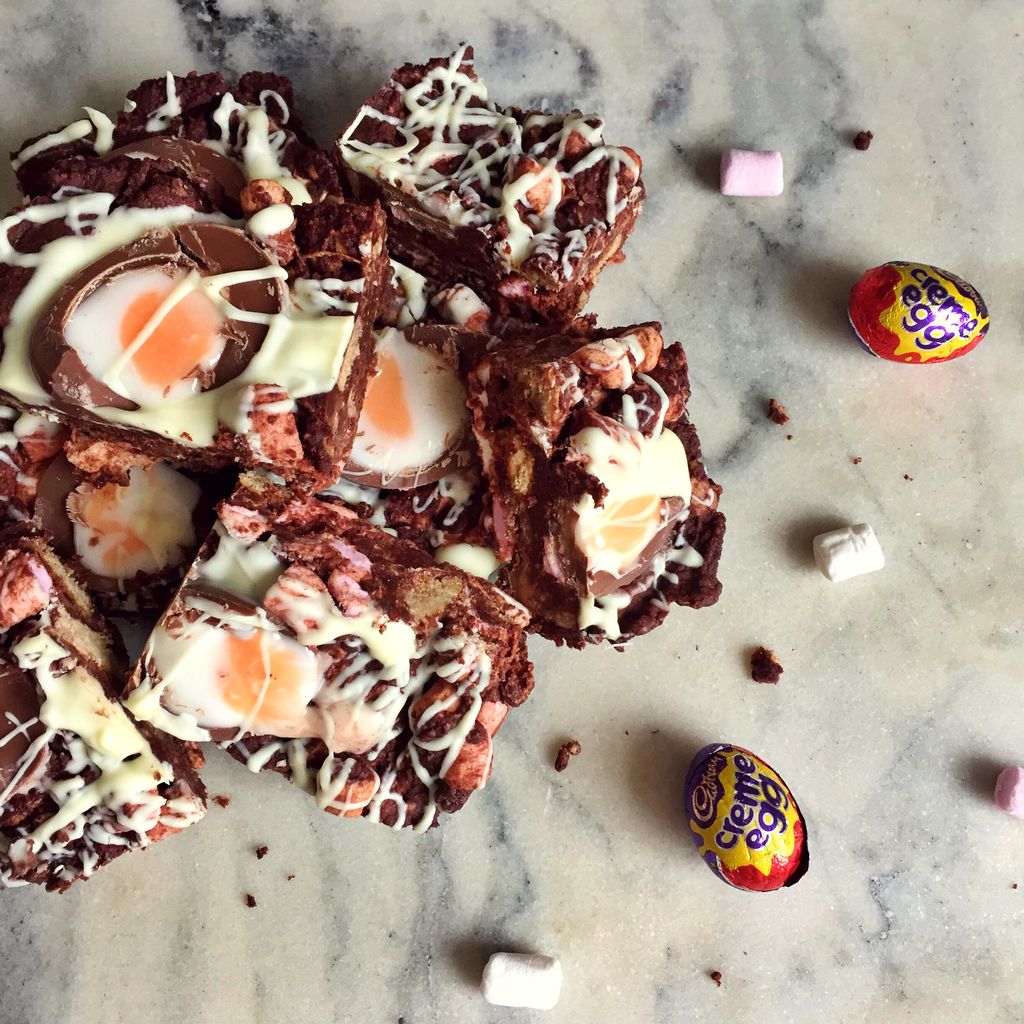 "In my kitchen, Spring welcomes deliciously sinful tray-bakes, today I'm sharing one of my personal favourite treats...with an 'eggstra' special ingredient!"
Ingredients
150g Unsalted Butter
200g Dark Chocolate (80% Cocoa) (Chopped)
200g Cadbury Dairy Milk Chocolate (Chopped)
4 Tablespoons of Golden Syrup
180g Mini Cadbury Crème Eggs
180g Mini Marshmallows
150g Gluten Free Digestive Biscuits (Crushed)
150g Milkybar White Chocolate (Chopped)
8 Cadbury Crème Eggs (Sliced)
Get Your Bake On ♥
1. Melt the butter in a pan over a low heat.
2. When it's about half melted, add the golden syrup, dark chocolate and milk chocolate to the pan.
3. Remove from the heat and set aside for 10 minutes until it's cooled slightly.
Whilst cooling, grease a 20cm x 20cm baking tin (or two small square tins) with butter, and line with baking paper.
4. Now add the mini Creme Eggs, marshmallows and crushed, gluten free, digestive biscuits; stir until everything is well coated.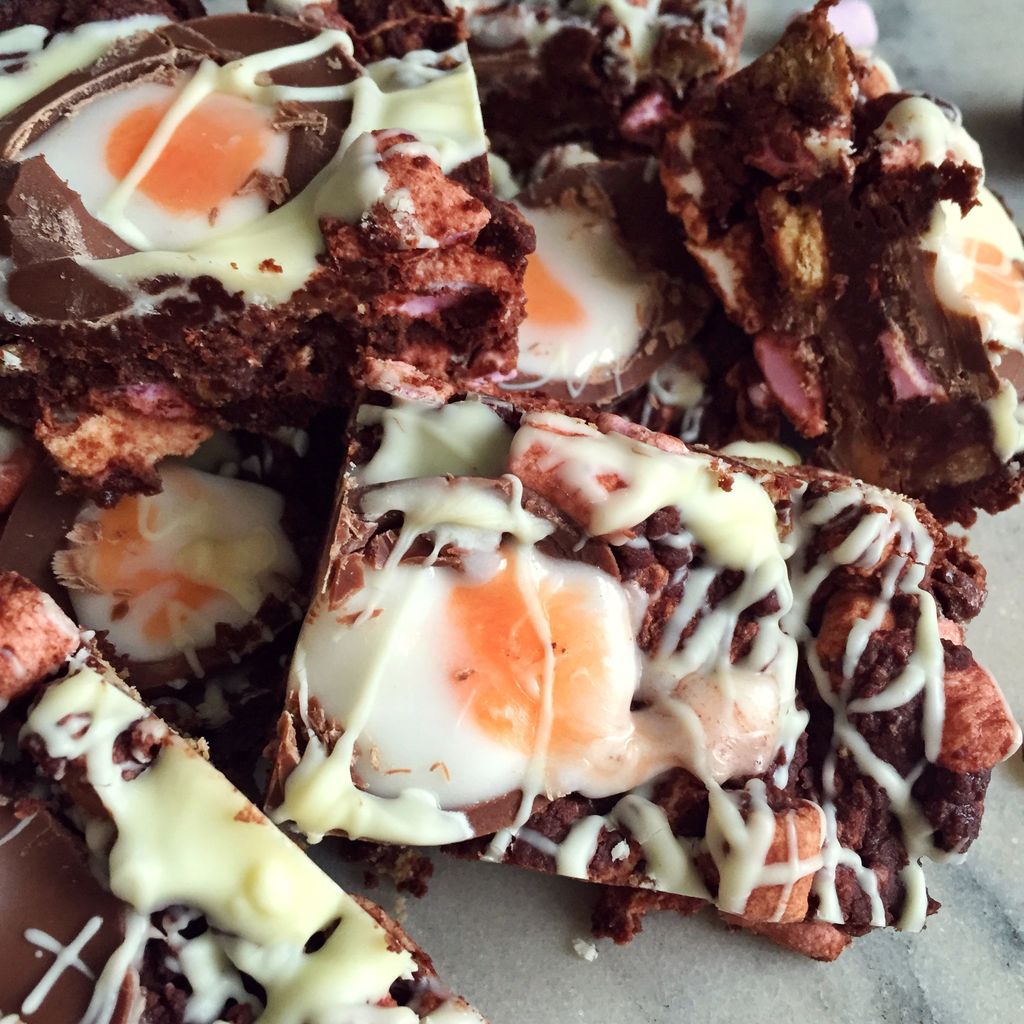 5. Time to press the mixture firmly into the lined baking tin, spreading as evenly as possible.
6. For the topping, melt the white chocolate on a low setting in the microwave, ensuring you check every 30 seconds or so to stir - be sure to keep your eye on it, as white chocolate has a tendency to seize easily.
7. Slice the full size Crème Eggs in half and sit in the chocolate, pressing firmly into the rocky road mixture.
8. Using a spoon, drizzle the melted white chocolate over the top, there is no specific art or skill to this - just have fun making an edible mess!
(If you've any melted chocolate left over, and strawberries/raspberries in the fridge...dip them in for a sweet healthy snack).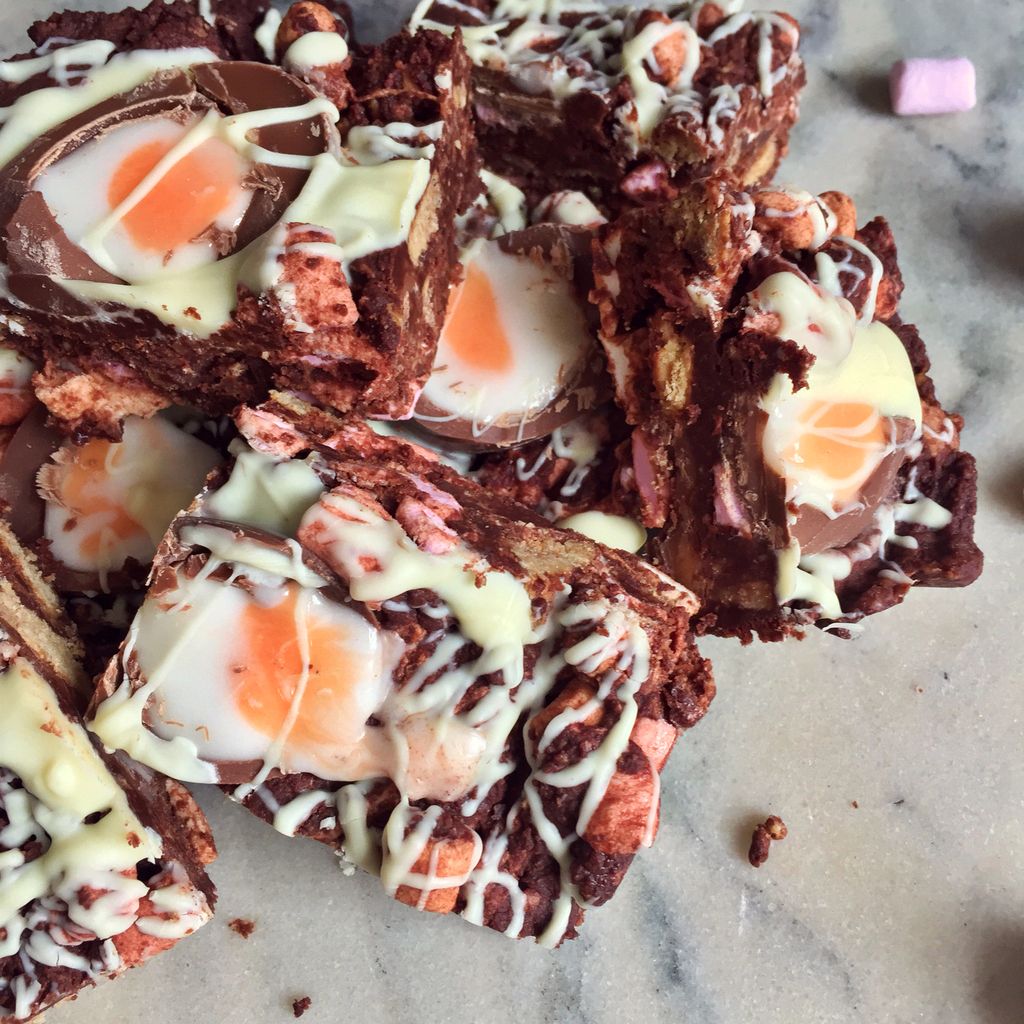 9. Place in the fridge to set for a couple of hours.
10. Once set, remove from the fridge and using a sharp knife, score all the way around the edge of the tin to loosen the tray-bake.
Now gently, keeping the palm of one flat hand against the bake, tip upside down to remove from the tin.
And now....slice up into squares and serve with a cuppa ♥